Reading your meter
Water meters encourage people to conserve water. They have led to a 25 percent reduction in water use throughout the district since installation, much like other areas of the country which have introduced them.
---
About your meter
Your meter is housed in a box with a blue or black lid, on the street side of your property – often with your house toby. The meter is a small cylinder with a counter unit on the top for measuring the volume of water that passes through it.
The meters are highly accurate, certified to international OIML R49 standards, and tested before installation.
They have a small round dial unit with a red arrow below the counter. When the arrow on this dial is moving, water is passing through the meter and being used on your property.
You can use the meter to work out:
how much water you are using now
check whether there is a leak on your property.
---
How to read your meter
You can watch our video to see how to read your meter and manage water use around your home, or use the diagram below.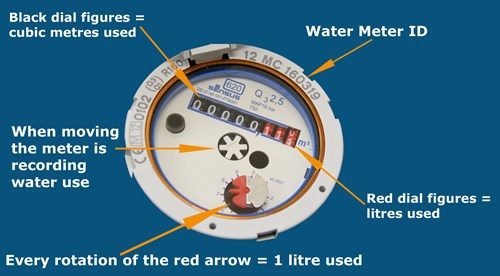 The white numbers on the BLACK background on your water meter, count in cubic meters. This is the reading your water invoice is based on.
The white numbers on the RED background on your water meter count in hundreds and tens of litres. Use these numbers to track daily use.
The small dial with the red arrow counts in litres.
The small white disc in the middle of your water meter spins as water flows through the meter. It's useful for detecting leaks – if it's spinning when all the taps are off and the cisterns are full, you may have a leak.
Video: Household water use and savings
---
Estimating your water usage and costs
Once you know how to read your meter, follow the steps below.
1.

Decide the number of days you will read your meter for.

Open read: 1 April
Close read: 30 April

= 30 days

2.

Calculate the amount of water you have used (in cubic metres)*

Minus the opening read (OR) from the close read (CR)

E.g. 220 CR - 200 OR = 20 cubic metres used

*The white figures on the BLACK dial count in cubic metres - this is what is charged on your invoice.

3.

Calculate your daily average water use in litres

Divide the cubic metres used by the number of days the meter was read

E.g. 20 ÷ 30 = 0.67

4.

Calculate you daily volumetric charge for how much water you have used

Multiply your daily average water use by the current volumetric rate of $1.19 per cubic metre

E.g. 0.67 x $1.19 = 0.80

5.

Calculate your daily fixed charge

Divide the current annual fixed charge by the number of days in the year.

E.g. $222.00÷ 365 or 366 if it's a leap year = $0.6066c

6.

Calculate your total daily charge for water

Add your volumetric and fixed charges together.

E.g. 0.80 + 0.6066 = $1.41

7.

Calculate your estimaged water charges per quarter

Multiply your total daily charge by 90 days to get an estimated quarterly charge.**

E.g. $1.41 x 90 days = $126.90

**the number of days for each quarterly invoice will vary depending on the months covered for each invoice period.
---