Private bores
As well as Council-operated water supplies, there are hundreds of private bores throughout Kāpiti.
---
Installing a private bore
You will need to apply to the Greater Wellington Regional Council for a resource consent for a bore. You can find out more on Greater Wellington's website at Water takes and bores.
You can find contractors who install private groundwater bores in the Yellow Pages.
---
Monitoring the effect of the river recharge scheme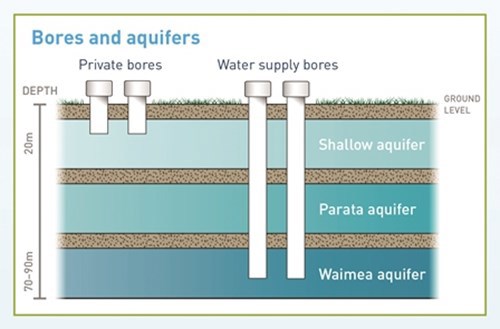 The Waikanae river recharge scheme may impact the groundwater levels in private bores in Waikanae.
Council use eight bores to draw water from the 70–90m deep Waimea aquifer for the scheme when/if needed. When we use these bores, the water level in the aquifer decreases.
While private bores don't tap into the deepest Waimea aquifer, water levels in the layers above it could go down when the scheme is operating.
To check the level of water in Waikanae aquifers:
Go to the Waikanae Borefield Level Monitoring.
Note: you will need Chrome, Firefox, Safari or Internet Explorer 9+ to see this information).
Check if your property is inside the orange line. Bores in this area may have reduced water levels when the river recharge scheme is operating.
Enter the address of your property in the search box at top left of the screen.
Result: A blue line will appear showing where your property is located.
Look for closest monitoring site to your property, marked red.
Click the double arrows to enlarge the graph showing water levels at that location. (You may need to scroll sideways to see these.)
---
No water in your bore
Step
Action
1

Check our Waikanae Borefield Level Monitoring page. Is your property inside the orange line?

| | |
| --- | --- |
| If your property is... | then... |
| inside the orange line | go to step 2 |
| outside the orange line | the issue is not due to the river recharge scheme operating. |

2.

Consider if your bore is your only source of domestic water, and/or water for stock.

| | |
| --- | --- |
| If your bore is... | then... |
| your only source of domestic/stock water | go to step 3 |
| not your only water source | you will need to use more water from your Council supply, or an alternative source such as a rainwater tank. |

3.

Check your bore has power.

*If your bore...
then...
has power
contact Council.
We will investigate if the river recharge scheme has affected your water source. If so, we will provide you with an alternavie source of water.
does not have power
the lack of water is not due to the river recharge scheme operating.
---