Our emissions reduction journey
Kāpiti Coast District Council made a decision in 2011 to focus strongly on reducing its corporate greenhouse gas emissions (GHG) to mitigate its contribution to climate change. To ensure independent validation of its achievements, and help embed 'carbon conscious' behaviour into the community and key industries, the Council joined CEMARS® (Certified Emissions Measurement and Reporting Scheme) administered at the time by Enviro-Mark Solutions.[1] 
Being part of this leading emissions measurement scheme put Council in a strong position to promote the importance of measuring, managing and reducing carbon and other greenhouse gas emissions. 
Results and targets | History | District-wide emissions reductions
Latest emissions reduction results and our new carbon neutrality target
Council is proud to have been the first local authority to be CEMARS (now 'Carbon reduce') certified, having joined the programme in 2011.
For the 2018/19 year our GHG emissions audit verified that the Council had reduced its carbon footprint by 77%, from 12,500 tonnes CO2e in 2009/10 (the baseline year) to 2,867 tonnes CO2e in 2018/19. Council is well on the way toward achieving its ambitious target of a reduction of 80%, compared to the baseline year, by 2021/22.
A key to this success under the CEMARS programme is the scheme's commitment to ensure all aspects of the organisation are involved. Achieving CEMARS certification means the Council is meeting international best practice in measuring and reducing its carbon footprint as much as possible. Further information about the certification can be found at https://www.toitu.co.nz/
Following on from this history of ambitious targets and success in working towards them, Council declared a Climate Change Emergency in May 2019 and adopted the goal of being carbon neutral by 2025.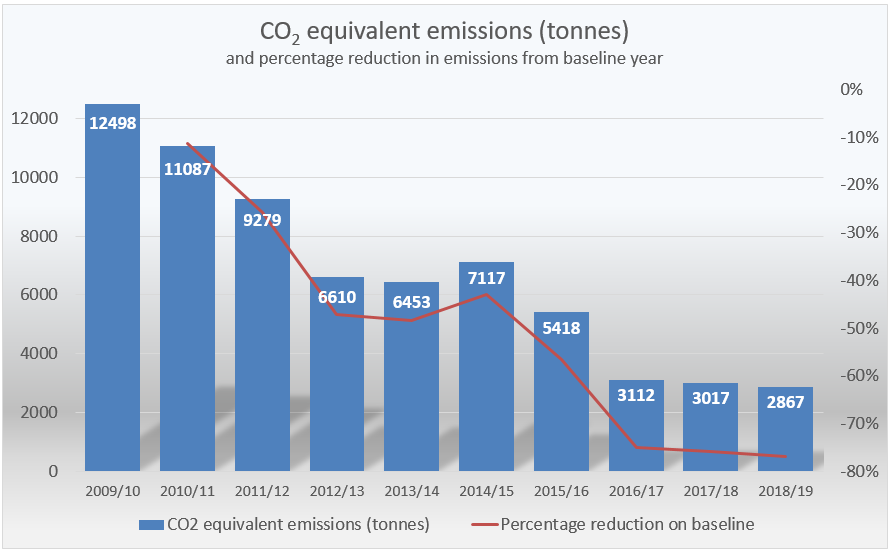 [1] CEMARS was renamed 'Carbon reduce' certification in late 2019 and Enviro-Mark Solutions was renamed 'Toitū Envirocare' (it is still a wholly owned subsidiary of Manaaki Whenua - Landcare Research). Note: Verified figures for each year are a snapshot in time using the best emissions factors at the time of certification. Toitū's e-manage software is regularly updated with emissions factors which can apply new historical factors to previously verified data sets, allowing those numbers to float. Because of this, there may be small differences in historical figures reported by Toitū when compared to the figures above. 
History of emissions reduction actions
Fuel switching and renewable energy
Wood-fired boiler at PWWTP
Diesel is a significant source of fuel for many of the Kāpiti Coast District Council's activities. To reduce its consumption, the Council has considered where it can use alternatives. For example, the Paraparaumu Wastewater Treatment Plant (PWWTP) sludge drying was converted from diesel to wood chip in September 2010, which significantly reduced greenhouse gas emissions and the operating costs of the plant. The energy savings from this project were estimated at approximately $300,000 per annum and it was calculated to have reduced our emissions by about 23% at the time of implementation (a reduction of around 2,880 tonnes CO2e by the time the full year effects had worked through in 2011/12).
Solar water heating at Ōtaki Pool
In December 2011, a solar water heating system installed on the roof of the Ōtaki Pool became operational. Unfortunately, this system was removed in 2017 when the pool building was rebuilt, as the roofing supplier advised that reinstalling it would void the warranty for the new roof. Other energy efficiency improvements at this pool are discussed below.
Solar PV installations
Ōtaki Library
In January 2012 a small solar PV system was installed at Ōtaki Library as a pilot.
Paraparaumu WWTP
The Paraparaumu Wastewater treatment plant's (WWTP's) power requirements were supplemented with the installation of a 32kW array of solar panels in 2014/15. This saved $6,000 in electricity costs in its first full year (at prices prevailing at the time).
Ōtaki WWTP
Council has been supporting a community organisation, Energise Ōtaki (EO), for many years. EO came to Council in 2018 with a proposal to establish a Solar PV farm on Council land alongside the Ōtaki Wastewater treatment plant, with a view to sell the electricity generated to the WWTP 'behind the meter'.
EO were successful in applying for grant funding from the Wellington Community Trust in 2019. Earlier this year both the lease agreement and the power supply agreement between EO and Council were signed. Ground preparation work commenced in July 2020 and the 107 kW solar array is due to be completed and operational in late August/early September 2020.
We regard this as a win-win project. Council will benefit from a modest reduction in its GHG emissions as the renewable electricity will be supplied directly to the Ōtaki WWTP and will reduce its need for grid supplied electricity (which has a grid emissions factor applied to it in the audit process). For its part, Energise Ōtaki will gain a source of regular income which it will use to develop other renewable energy and energy efficiency projects in the community.
Energy efficiency
Coastlands Aquatic Centre
The Council supports an active community by providing sports facilities. As swimming pools can be fairly energy intensive to run, they were a natural place to assess for energy efficiency. Retrofitting low-flow shower heads and variable speed drives on pool pumps is already generating energy savings. The Coastlands Aquatic Centre was designed from the outset with sustainable principles in mind. The translucent roof harvests solar energy – which meets 12% of the facility's annual heating demand and has reduced the energy required for lighting by 70%.
Civic administration building
Refurbishing existing buildings can be an opportunity for realising significant energy efficiencies. The Council's upgrade of its Civic Building included an atrium designed to allow natural light to filter into the space which has reduced lighting energy requirements. Shading of north-facing windows, efficient air conditioning and ventilation, meeting room occupancy sensors and responsive lighting systems have also contributed to significant energy efficiency improvements. Accordingly, the building was awarded a 4.5 (out of 6) star NABERSNZ rating. The Council plans to assess its other buildings for similar opportunities.
Otaki Pool
In October 2012 a new condensing gas boiler was installed at Ōtaki Pool as a more energy efficient replacement for the old boiler. An energy management system was installed at the pool in 2014/15 to further improve the energy efficiency of the operation.
In late 2019 a feasibility study was commissioned to look at the potential for further energy efficiency gains through installation of an HVAC system and to explore the requirements, costs and carbon savings of a move from the condensing gas boiler to heat pumps for water and space heating. The results of that study will inform our business case development for the 2021 Long Term Plan in regard to further upgrades at the Ōtaki Pool.
Installation of water meters
Household and business water meters were installed throughout the district in 2013/14 as part of a move to improve water conservation, identify leaks and enhance the sustainability of our existing water supply.  The resultant reduction in demand for water had the additional benefit of significantly reducing electricity use through our water distribution network.  In 2014/15, an estimated $88,000 of energy costs for water, and 159 tonnes of CO₂e emissions, were avoided.
Disposal of sewage sludge
Our local landfill at Otaihanga reached the end of its life and was closed to all but cleanfill in late 2015.  As a consequence, we were forced to find an alternative disposal site for our dried sewage sludge from the Paraparaumu WWTP.  From January 2016 we have transported the dried sludge to Silverstream landfill in Lower Hutt.  Because the Silverstream landfill had a certified Landfill Gas Capture and Destruction rate of 90% this move contributed to a very significant reduction in our emissions over both 2015/16 (a half year effect) and 2016/17 (which recorded the full year impact)
Electric Vehicles
The Council replaced its diesel-powered compactor truck with an electric version in May 2013 - the first New Zealand heavy electric road vehicle.  Unfortunately, this vehicle had repeated maintenance issues with the old drive train and didn't lived up to its initial promise.
The Council purchased a Nissan Leaf battery-electric vehicle for its carpool in 2016. This vehicle has the lowest costs of ownership compared to other vehicles in its class and will reduce CO2e emissions by two tonnes per year. The vehicle is recharged at the Council office and is very popular with staff. 
We purchased a second Nissan Leaf in December 2019 (a 2016 model) and replaced the Mayor's vehicle in March 2020 with a new Nissan Leaf.
We are currently in the process of exploring EV charging options at the Civic building with a view to installing 3 new EV charging stations and allowing for some future proofing for further EV purchase.
LED streetlights
Over 2017/18 to 2018/19 Council converted 4,699 conventional streetlights to LED's, of a total of 5,320 streetlights in the district (noting that a number of streetlights are private). Currently a survey is being done to assess how many more can be converted in the annual renewal programme.
Verified audit data for 2018/19 shows that the LED streetlight replacement programme has resulted in a reduction of 933,000 kWh in electricity use compared to 2016/17 (prior to the start of the programme) and a reduction of 111 tonnes in CO2e emissions. 
The projected annual energy savings (when the full year impacts have worked through) are currently estimated to be around 1.05 -1.2 million kWh from 2019/20 onwards (compared to 2016/17) This is expected to result in a reduction of around 140-150 tonnes CO2e per annum compared to 2016/17. We'll see whether this was an accurate or too conservative estimate when we do the 2019/20 audit in late 2020.
Tree planting
The Council is exploring options to plant available land in trees to offset its emissions. In 2018 this involved applying for funding through the provincial growth fund and the One Million Trees programme. We are currently waiting to hear whether that application has been successful.
Encouraging district-wide emissions reduction
The Kāpiti Horowhenua Electric Roads project
In 2018, the Kāpiti Coast District Council partnered with Horowhenua District Council, Electra and ChargeNet and successfully applied to the Energy Efficiency and Conservation Authority's Low Emission Vehicle Contestable Fund to install eight electric vehicle (EV) fast chargers across Kāpiti and Horowhenua.  Installing fast chargers in Kāpiti town centres helps support the uptake of EV's while also supporting local businesses, which will benefit from EV driver's custom.
Sustainable Communities Programme
The Sustainable Communities Programme puts Council's commitment to environmental sustainability into action through engaging a wide range of people on practical topics that enhance community resilience and environmental awareness. It looks to connect and empower people at a grassroots level to feel part of a thriving resilient community.
Free/affordable events, activities and independent advice are offered to the wider community as well as a Greener Neighbourhoods grant to kick start relevant community-led projects. It aims to improve our local environment contributing to the development of a distinctive Kāpiti identity and sense of place through fostering biodiversity, reducing waste, promoting local food production, encouraging resource sharing, creating warm healthy homes and promoting emergency preparedness.
The programme has also included the Community Garden Parties programme, and the No8 Wire Week programme which offers workshops to the public on a range of sustainability-related subjects. Sustainable Communities Kāpiti has an active social media presence and sends out the 'On To It' newsletter regularly to keep subscribers updated and informed.  In acknowledgement of this programme in 2018 the Council was invited to become a member of the Environmental Hubs Aotearoa network.  It is also a member of the Sustainable Living Aotearoa Programme.
Waste Minimisation and Education
Council officers deliver the Zero Waste educations programme in primary schools (since 2014) and each year a contestable levy funding round for community projects is advertised. Often schools apply for grants to set up recycling and composting systems, as well as neighbourhood groups and other community groups. The amount available for community projects is $20,000 each year. A contestable process for businesses delivering on waste reduction has also been advertised in the last 5 years, around $50,000 per year has been made available. Not always has this funding been awarded as businesses need to meet the requirements of the Waste Levy Policy. The Policy will be reviewed in the 2019/20 year.
Waste minimisation officers are involved in the development of No8 Wire week, support and assist event organisers to run zero waste events and they deliver a number of talks and informative toolkits to community groups, elderly villages and the wider community. They work across Council to assist team achieving better waste outcomes connected to the delivery of their services.
Community engagement:
Council continues to support Energise Ōtaki, a community not-for-profit organisation that started as a Council supported initiative, to support the group's aspirations of promoting sustainable energy. Projects include working with Ōtaki College students and teachers on alternative fuels and solar energy, solar array scholarships, a bike library and many more.
In addition to developing the solar array at the Otaki WWTP, Energise Ōtaki have also submitted an application for Shovel-Ready Projects funding to develop a 4 MW solar array in Ōtaki on Council-owned land near the local sub-station.
Council also supports a range of other environmental education programmes including Enviroschools and EVolocity.
Kāpiti Coast District Council is a leader in sustainability, not only in emissions reductions, but also in engaging its community and stakeholders to actively contribute to reducing the impacts of climate change. Its ongoing commitment to improvement means the organisation and the community are ensuring they are best placed for mitigating and adapting to climate change, while building sustainable practices. With such significant achievements already, the Council is well on its way to achieving the ultimate goal of becoming zero carbon. 
Find out more at www.kapiticoast.govt.nz
---
[1] CEMARS was renamed 'Carbon reduce' certification in late 2019 and Enviro-Mark Solutions was renamed 'Toitū Envirocare' (it is still a wholly owned subsidiary of Manaaki Whenua - Landcare Research).