Ōtaki Railway Station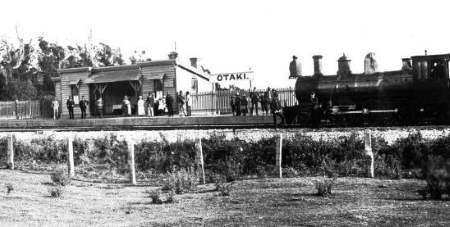 Wellington and Manawatu Railway.  Nasmyth Wilson 2-6-2 locomotive at Otaki  Station. ca 1886.  NZ Railways Collection  NZRE 947
Location: Arthur Street, Ōtaki
The original station building was built in 1886 on completion of the Wellington and Manawatu Company's railway line. Coaches linked it with the town, over a mile westward.
After a fire in 1910, New Zealand Railways constructed the present building, designed by George Troup.  Its stockyards, post office and refreshment rooms were the beginning of a second town centre, 'Otaki Railway'. 
From 1919, Wellington's town milk supply travelled daily from the nearby Rahui dairy factory. 
After World War II, a burgeoning market garden industry made the station yards a hive of activity.  Several times a week growers loaded their produce on wagons bound for markets from Wellington to New Plymouth.  However road competition led to its closure in 1987, and the building fell into disrepair.  With the help of a community trust the station was restored (1999) and still serves commuters.
Photo gallery
Click the thumbnail to enlarge the image.
Supporters of the Heritage Trail