Centennial Highway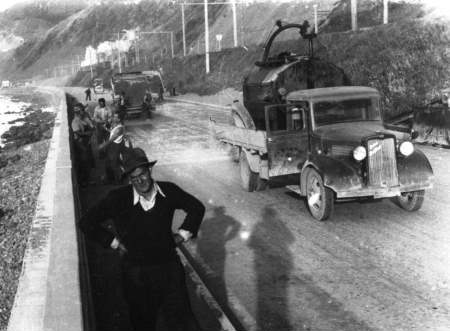 The man in the foreground is thought to be J R McLauchlan, the contractor whose truck is seen on the right. Behind him are Joe Ropata, Reg Fielding and Fred Strand putting "chips" on the road surface for Centennial Highway, 1939.
HP 1091 J Beattie Collection, Kāpiti Coast District Libraries
Location: 29 SH1, Paekākāriki
Centennial Highway was officially opened on 4 November 1939. It extends from Ngauranga Gorge to the southern-most end of Paekākāriki and was built to replace the Paekākāriki Hill Road.
While many of the workers on the road came from the local area, public works camps were also established. These included one at Plimmerton on the eastern side of the railway line and one at Taua Tapu near Airlie Road. The workers at these camps were responsible for the construction of the road alongside the Taupo Swamp, through Pukerua Bay and along the coast to Paekākāriki. A one mile long coastal seawall was constructed as part of this project. The workers faced two major challenges; digging down to 20 feet to find solid ground next to the Taupo Swamp and working night and day on the coast to construct the seawall then back filling it to create a platform for the road. This challenging work took three years to complete.
Photo gallery
Click the thumbnail to enlarge the image.
Supporters of the Heritage Trail