Paekākāriki Railway Precinct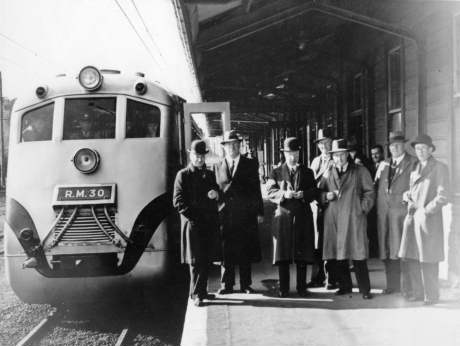 Railway officials beside the first standard railcar, Paekākāriki Railway Station, ca 1939. HP 1512 Buckley Collection, Kāpiti Coast District Libraries
Location: 18 Tilley Road and 219 State Highway 1, Paekākāriki
The rail yard at Paekākāriki is registered as an Historic Precinct by the New Zealand Historic Places Trust.
In 1886, the first trains to use these yards were operated by the Wellington and Manawatu Railway Company. The railway line gave rise to a string of villages between Wellington and Longburn, including modern Paekākāriki.
In November 1908 New Zealand Railways bought the assets of Wellington and Manawatu Railway Company and built the present station. In 1992, with community support, a local history museum was opened in the station building. The South End signal box was also restored by community effort.
The large shed by State Highway One was the supply depot for three nearby United States Marine Corps camps.
From 1886 until 1972, Paekākāriki had a railway locomotive depot in order to service engines at this point, where level going gives way to the hilly section before Wellington. A turntable on Steam Incorporated land is one of the few surviving relics of this depot.
Photo gallery
Click the thumbnail to enlarge the image.
Supporters of the Heritage Trail