US Marine Corps Camps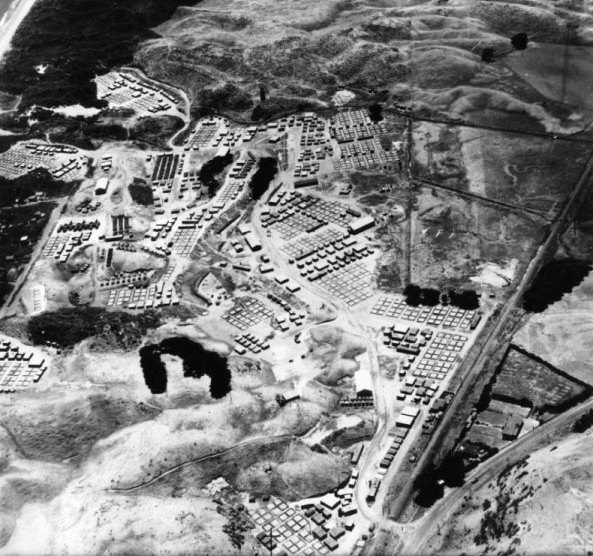 The Marine Camp at Paekākāriki during World War II. The Second Division of American Marines was based in the Paekakariki Camp near McKay's Crossing to train and recuperate, ca 1942. HP 104 C P Leonard Collection Kāpiti Coast District Libraries
During the Second World War, Paekākāriki served as a major base for American Marines fighting in the Pacific Campaign. 
The first Marines arrived in Wellington to a tremendous welcome on 4 June 1942. After berthing at Aotea Quay, equipment was sorted and a parade quickly organised before the trip to the camps at Mackays Crossing. 
There were three main camps, all situated in or adjacent to present-day Queen Elizabeth Park. Camp Russell, located within Queen Elizabeth Park and adjacent to the Mackays Crossing entrance, housed the 2nd Infantry Regiment. Camp Mackay, located across the main highway, now Whareroa Farm, housed the 6th Infantry Regiment, and camp Paekākāriki, at the southern end of the park, housed the 8th Regiment. At one stage there were over 20,000 Americans stationed in the region.
The camps were used for training purposes as well as rest and recreation for those returning from the Pacific combat zone. Paekākāriki's steep surrounding hills proved suitable terrain for marching and mortar practice, and its beaches were used to stage amphibian invasions.
To recapture life at the camps and to recognise the aid the United States Marines gave to our region, the Wellington Regional Council erected a commemorative plaque, flags and interpretation panels at Queen Elizabeth Park.
Photo gallery
Click the thumbnail to enlarge the image.
Supporters of the Heritage Trail