Whareroa Farm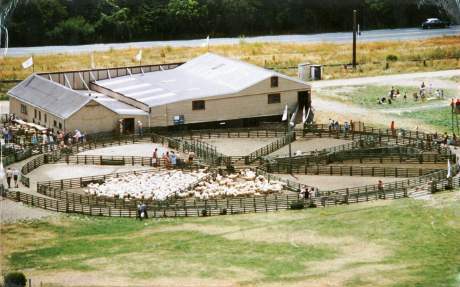 Location: Mackays Crossing exit, SH1, 3.5km north of Paekākāriki
When the Crown purchased the land in 1858, iwi were living and cultivating land east of the Whareroa swamp. Alexander MacKay and his family settled the land in 1859.The family farmed the land until it was sold by their youngest son, Arthur in 1936. His brother William died intestate and his farm share passed to the Public Trust and to the Wellington Hospital Board.

In May 1942 the Government claimed all the land for defence purposes During WW2. Regiments of the 1st and 2nd Marine divisions were based at Camp MacKay.

After WW2 the Land and Survey Department farmed the land as a recreational and educational farm. The farm passed to Land Corp in 1987 and the farm was closed to the public. Plans to subdivide the farm for private development in 1993 raised strong opposition.
The formation of the Guardians of the Whareroa farm in 1995 led to a community campaign which persuaded the Government to purchase the land in 2005 and transfer it to the Department of Conservation.
Photo gallery
Click the thumbnail to enlarge the image.
Download a brochure
Click on a link below to download or print a copy of each heritage trail brochure.
Ōtaki and Te Horo[PDF 2.41 MB] 
Waikanae[PDF 2.51 MB] 
Paraparaumu[PDF 1.67 MB] 
Paekākāriki[PDF 1.41 MB] 
Related links
Supporters of the Kāpiti Coast Heritage Trail
Te Whakaminenga o Kāpiti
Kapiti Pakeke Lions
Kapiti Historical Society
Otaki Historical Society