The ŌT | Ōtaki Tauwhāinga-toru
The Ōtaki Triathlon was back for 2023! This fabulous sprint-distance triathlon ran on Sunday 26 November.
Traversing spectacular open spaces, native bush and the Ōtaki beach front, Tauwhāinga-Toru 2023 (the Ōtaki Triathlon) is a great opportunity for anyone keen to build their fitness levels and have a blast doing it.
For experienced triathletes, this was an awesome way to gently kickstart the 2023/24 season, with some of the best terrain and views the Kāpiti Coast has to offer.  
Starting from Haruātai Park, participants run three times around the Haruātai Park trail – a mixture of flat grounds and slight inclines, surrounded by thriving native bush.
They then ride the back streets of Ōtaki township on bike to the beachfront and back twice, before finishing with a 400-metre swim at the Ōtaki Pool. 
This was a sprint-distance triathlon; course maps are below. 
You can enter as an individual or as part of a team in one of the following categories: 
ŌT Sprint (Aqua and bike and run) 
ŌT Aqua and bike 
ŌT Aqua and run 
ŌT Team sprint (Aqua and bike and run).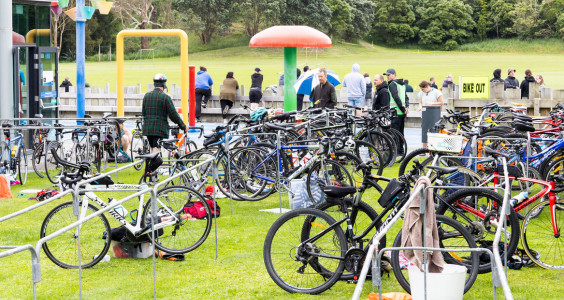 Aqua bike, aqua run and e-bike options were also available in the following categories: 
ŌT E-spint (Aqua and e-bike and run) 
ŌT Aqua and e-bike 
ŌT E-team sprint (Aqua and e-bike and run).
Entry $35 for individuals or $80 for team. All entrants received an event t-shirt. 
---
Train with us
You could join our seven-week drop in training sessions to get fit, learn new techniques and have fun.
Sessions were run by our wonderful swim teacher Kay, and Danielle and Lucas from Coast Endurance. Danielle and Lucas are top-level triathletes recently back from a racing and training stint in the French Alps.
Swim training – 5.30–6.30pm every Tuesday
Run training – 6–7pm every Wednesday.
All sessions were drop in and cost just the usual pool entry fee. No need to book, everyone welcome. Meet at Ōtaki Pool ready to go.
---
Race schedule
All runners start together at 8.15am, followed by the cycle and then the swim. Competitors could enter the bike transition area to retrieve their bikes when they completed their race.
| | |
| --- | --- |
| Time | Activity |
| 5.45am | Sunrise |
| 6am | Registration opens |
| 6.20am | Transition opens |
| 7.30am | Registration closes |
| 7.40am | Transition closes |
| 7.45am | Racing briefing from race director, technical official and road management, and group warm-up |
| 8.15am | All runners start together – note order of events is different from last year, and the start time has changed |
| 9.30am (approx) | First finisher |
| 10.45am (approx) | Last swimmer in |
| 11.00am  | Closing ceremony and special mentions by staff (new this year!) |
---
Some of our participants 2022
Meet Shelley
Friends don't let friends do triathlons alone.
Aquatics Programmes and Events Manager and Acting Manager at Ōtaki Pool, Shelley was super excited about getting in the pool for the Ōtaki Triathlon – and she's recruited some help to tackle the rest of the events. Steve and Daniel, also from our Aquatics Team, took on the run and bike ride to share the load.
 "I know I can definitely do the distance which is 12 lengths of the pool but there might be some huffing and puffing at the end," says Shelley.
So, why did Shelley take on this challenge?
"This is an awesome event to challenge yourself in a safe and supportive environment, and such a cool opportunity for our community to experience a beautiful part of Kāpiti."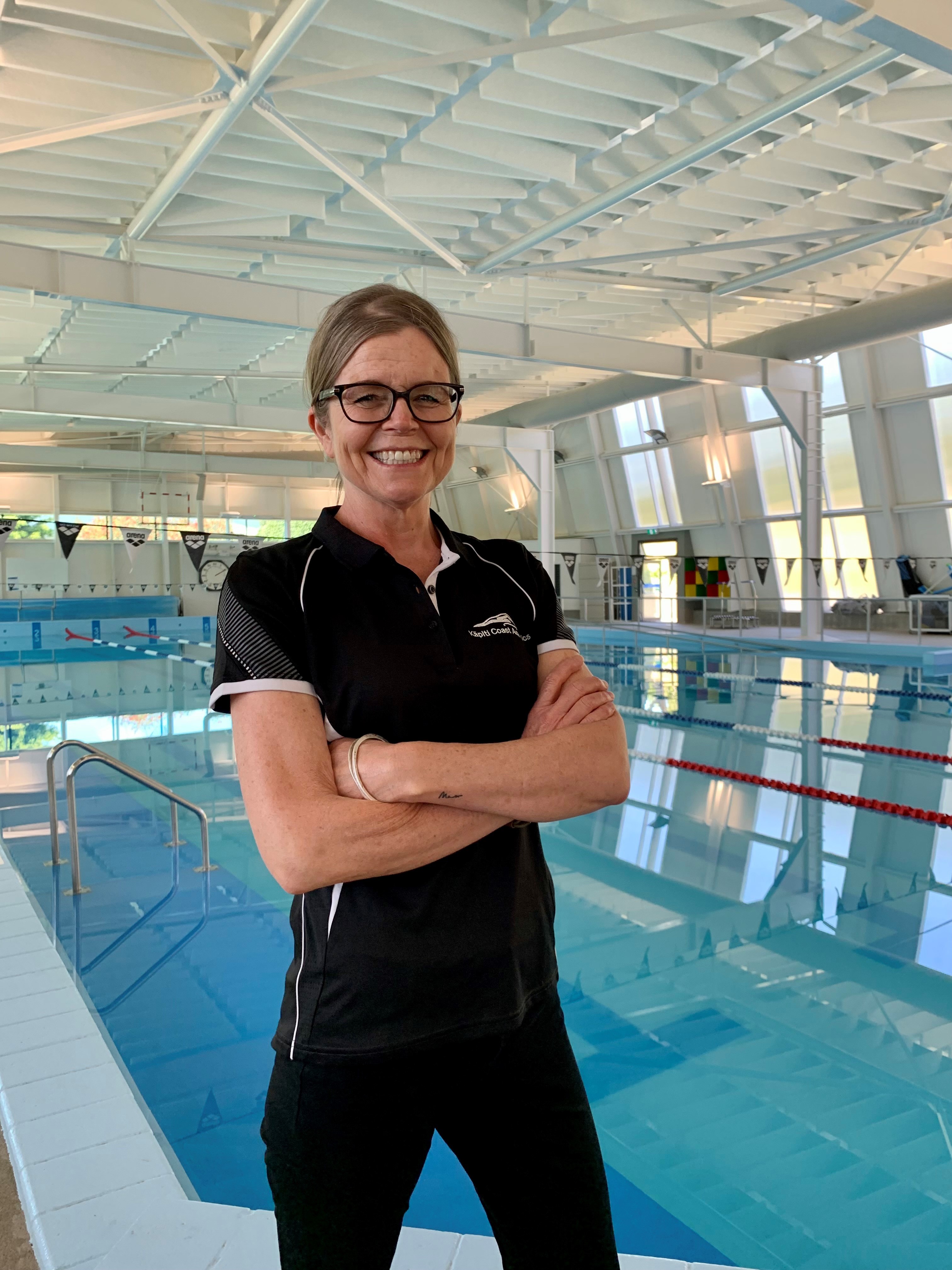 It's a family affair for our wonderful Ōtaki Pool receptionist Penny.
She tackled the Ōtaki Triathlon with her mum Pip and husband Tia. Her three children were on the sidelines cheering for them all.
"Mum is super fit and loves these kinds of things but can't do the whole event herself because of an injury so I'm going to do the 5km run," says Penny.
Penny tagged along to the Wednesday night group running sessions and was inspired by the at mix of people giving it a go.
"This is my first multisport event and they have always felt intimidating and unwelcoming. The ŌT has been the complete opposite – it's a really supportive group of people, all at different fitness levels. It's not about being the fastest; it's about having a good time."