Paraparaumu transport hub upgrade
We're partnering with Metlink to expand and upgrade the Paraparaumu transport hub to improve our growing community's public transport experience, and connections to our retail area.
---
What's new
In the second half of September, you'll see a couple of structures being installed at our new Paraparaumu Transport Hub.
Our team will be installing shelters will on each side of Amohia Street at the new pedestrian crossing. They'll start on Tuesday 19 September, and are expected to take eight days, with the specialist crew from Auckland working through the weekend to get the job done.
Despite a few delays due to the availability of resources and equipment, we'll be opening our new transport hub later this year.
The new transport hub will transform the Paraparaumu town centre. It'll improve people's public transport experience and connections around the retail area.
---
August update
---
Building programme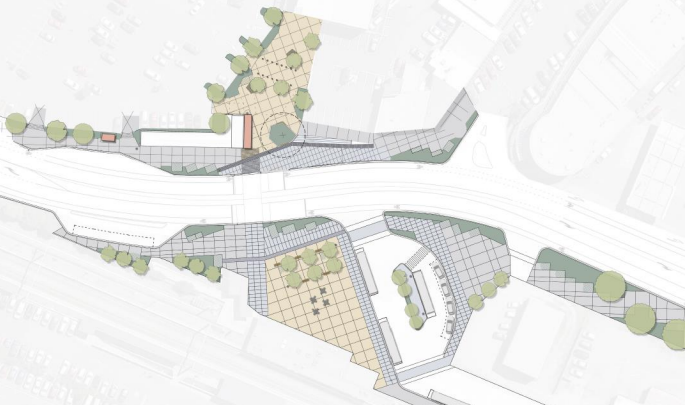 The upgrade includes creating people-friendly, functional and safe spaces. A larger, safer and more convenient bus interchange and taxi parking area will be set within a fully accessible public plaza.
A 'kiss and ride' zone will allow drivers to pull off the road safely to drop off or pick up passengers.
A new fully accessible plaza, connected by a traffic light-controlled pedestrian crossing, will extend across both sides of the road. The plaza will be a place to relax, meet up with friends, or wait for a bus, train or taxi. It will feature new plantings, bus and pedestrian shelters, seating, and cultural elements. A new 10-bay bike park with charging for e-bikes and scooters will securely store bikes and scooters for riders transferring to public transport or visiting the shops. Spacious new footpaths on the western (retail) side of the road will improve pedestrian access to Kāpiti Lights.
Some of the pohutukawa trees located in the former car park near the old state highway were removed to make way for the bus interchange and public plaza. The remaining trees will feature in the new public plaza.
The pedestrian underpass will remain in place. 
Construction started in September 2022 and is expected to be finished by late 2023. Works include:
constructing a new bus loading and unloading area
developing new accessible plaza spaces including, cultural art features, landscaping and lighting
installing new seating, paving and bus and pedestrian shelters
improving the footpath and area around Kāpiti Lights.
---
Change to location of bus interchange 
Since October 2022, local buses depart from the eastern side of the train station for the rest of the project. Intercity coaches and buses replacing trains use bus stops located on the old State Highway 1. Metlink have temporarily closed 55 carparks in their eastern carpark so buses can safely manoeuvre around the carpark. Metlink have also increased the number of off-peak services; they operate on a 30-minute basis, rather than the usual 60 minutes. School bus timetables remain the same. Taxis can use the park and ride area, and mobility parks have been moved slightly closer to the platform. Bike parking is not affected.
---
Bus stop for buses replacing trains
Since November 2022, Metlink's bus stop for buses replacing south-bound trains has moved to the newly constructed bus stop on the eastern side of the old highway near Kāpiti Road.
---
Town centre masterplan
Upgrading our transport hub is one of the key projects of the Paraparaumu town centre masterplan. The masterplan was developed in response to construction of the Expressway and Waka Kotahi NZ Transport Agency's conversion of the old State Highway 1 into a fit-for-purpose local road.
It aims to make Paraparaumu the heart of our district, and the main area for retail, commercial, cultural and civic activity. 
Metlink's map opposite shows the safe pedestrian routes and temporary location of bus departure and arrival points. Map provided by Metlink.
---
Transforming the old state highway into a local road
Waka Kotahi NZ Transport Agency is preparing the old highway between Ihakara Street and Kapiti Road to hand over to Council to control and maintain.
To transform the old state highway to a local road and prioritise those who live here rather than those who drive through, Waka Kotahi is changing the road's layout and installing new kerbs and drains, and a pedestrian crossing with signals. The new pedestrian crossing will make easier for people, especially those living with a disability, to cross between the transport hub and the retail area. Waka Kotahi will also realign the old highway to one lane in each direction, to make it look and work more like a local road.
---
Gallery
The following images are artist's impressions of the upgraded transport hub. 
---
Animation
See our artist's impression animated flythrough of the completed Paraparaumu transport hub.
Note: Some new plants will take a while to be as large as they're shown in this flythrough.