Hautere Water Treatment Plant upgrade
Providing a continuous supply of high quality and compliant water to the Hautere and Te Horo communities is a high priority for the Council. Council's aim is to increase resilience and ensure we can consistently provide high quality water. Since June 2021 we have been working to upgrade the Hautere water treatment plant processes to remove turbidity and ensure access to safe drinking water. This mahi is part of Council's overall Water Safety & Resilience Programme. 
This $1.59 million project is being carried out over two stages – securing the water supply, and ensuring quality drinking water. 
---
About turbidity
Turbidity is a measure of solid particles in water using the amount of light that can pass through. Although turbid water is not always unhealthy, high turbidity in drinking water can act as a shield for bacteria and other organisms, and as a result, can prevent treatments from disinfecting the water as effectively.
---
Stage one: Securing water supply
This stage, which was completed in May 2022, included drilling and development of three new bores (two for production and one for monitoring), and installation of wellhead pipework, raw water pipeline and electrical components.
The Hautere/Te Horo water supply was unique in Kāpiti because the water previously came from bores that were closely connected to the Ōtaki River meaning when there was heavy rain, turbidity levels could rise and send water through our UV reactors to uncompliant levels.
.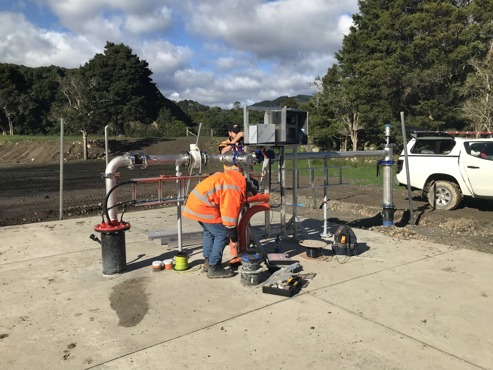 ---
Stage two: Ensuring quality drinking water
This stage includes a water treatment plant upgrade to meet compliance with current drinking water standards, including the addition of new filters to further protect against water contamination.
This stage is currently in the early design stages and Council is looking at various procurement options.
---
Precautionary boil water notice for Hautere/Te Horo – lifted 8 June 2022
On 8 June 2022, Council removed the precautionary boil water notice for the Hautere/Te Horo public water supply that was issued in November 2021. The notice was put in place as a precautionary measure following water turbidity flowing through ultraviolet (UV) reactors reaching levels not compliant with water standards.
Extensive sampling of the network following the completion of stage one of the Hautere Water Treatment Plant upgrade has returned results clear of any contamination. This has given Council the confidence to lift the precautionary boil water notice.
---