Cultural thread – Whakarongotai Marae to Frater Lane
This project was archived on 28 October 2021.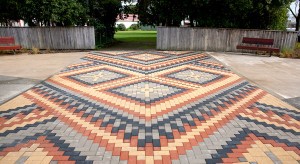 Cultural thread paving design – Te Ara Tāngata (the people's pathway)
The cultural thread reflects the Whakarongotai Marae's connection with the Ruakohatu Urupā and the original Waikanae Village. It incorporates beautiful and distinctive paving of cultural significance.
Stage two | Cultural thread paving
Stage two
Stage two of the cultural thread pathway was completed in December 2020. A small blessing ceremony was held to mark the occasion. Kaumātua Koro Don Te Māipi led the blessing.
Stage one was completed in 2018. Stage three of the cultural thread, near the State Highway 1 entrance to Frater Lane, will be completed as part of Waka Kotahi NZ Transport Agency's work to make the highway a local road.
---
Cultural thread paving
A significant aspect of the cultural thread is the paving design, Te Ara Tāngata, which has many embedded components that make up its meaning.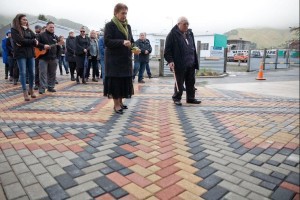 Blessing of the cultural path following completion of stage one​
The design acknowledges the history of the marae, and the many people of its iwi, hapū and hapori (tribe, sub-tribe and community). It reflects the original pātikitiki wallpaper designs and stained-glass windows within the meeting house, and visually connects the marae to Ruakohatu Urupā – Ropata and Parata cemetery next to St Luke's Church on Elizabeth Street.
Within the wider context of te ao Māori (the traditional Māori world view), the design also represents purapura whetū (myriad of the stars), "Those who have turned into stars, glimmering in the night sky and watching over us".
Purapura whetū is encased within pātikitiki (the flounder), which symbolises favourable conditions, and harvests good fortune and abundance. It is said that when the stars in the sky are in a formation, that is the right time to go and catch flounder. Mā muri ka tika a mua, mā mua ka tika a muri. 
Triangular chevrons can be interpreted as not only a waka (spirit medium of an atua), but also the tip of the hoe (used to row or paddle waka on the voyage). The paving also includes the lashings and whakairo (carved ornamentation) found on the side of waka. The waka can be interpreted as either facing the marae, or journeying away from the marae to the Urupā.
Other work completed as part of the cultural thread project includes improved lighting, planting, seating and pedestrian access from the commuter car park, past the marae and through to Mahara Place.
---