Te Moana Road corridor safety improvements
A series of safety improvements are planned for Te Moana Road in Waikanae. This work is part of our programme of districtwide traffic improvements to improve safety for vulnerable users, in particular our older and younger residents.
---
Overview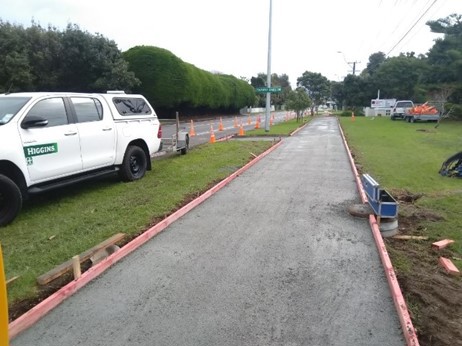 The improvements to Te Moana Road include:
installing two more pedestrian refuge islands on Te Moana Road between the Expressway and the old SH1, to make crossing this road safer for pedestrians
extension of the 2.5-metre shared path on the east of the golf club entrance, to the corner of Lavinia Street was completed in May 2021
new signage and markings at the intersection of Te Moana Road and Rauparaha Street to make it safer.
Other work to be done in future (subject to securing funding) includes installing kerb, channel and sumps for the section of Te Moana Road immediately west of the Expressway, and latering the bus layby on Rauparaha Street.
Image: Construction of the shared path, May 2012 from the golf club entrance to Lavinia Grove.
---
Rauparaha Street intersection

We've considered a number of options to improve safety at this intersection. Detailed investigations and design have shown changing the priority of traffic is not cost effective. Council will seek funding as part of the next Long-term Plan and Regional Land Transport Plan processes for a roundabout at this location. In the meantime, we'll improve signage and markings in this area.
---