Renaming SH1
With the Expressway here and the change it's bringing, we have a unique opportunity to rename the existing State Highway 1 once it becomes a local road.
As part of the 'revocation' process to make SH1 a local road the SH1 between Poplar Avenue and Peka Peka will lose its classification as a state highway and will be renamed. It can no longer be called a state highway for address and identification purposes.
In early 2017 we invited the Kāpiti Coast community to have their say on possible names for seven sections of SH1. This included options for retaining the status quo, and possible names identified by representatives from our District's three iwi and a local historian. More than 580 people engaged in our SH1 renaming conversation and all suggestions received were assessed against the Criteria for SH1 Renaming.
What happens next?
SH1 renaming for the stretch from Raumati through to Peka Peka is currently on hold until the road is handed back to Council. A final decision hasn't been made on naming this section of road.
This timeframe has changed from what was originally planned because, SH1 can't be renamed until the revocation is completed and the project has been delayed by the NZ Transport Agency. 
Once the names are agreed by the Council and responsibility for the road is transferred from the Transport Agency to the Kāpiti Coast District Council a formal notification process will follow. This will involve working with Land Information New Zealand, affected property owners, business operators and emergency services to ensure there is a smooth transition to the new road names. This could take up to 24 months.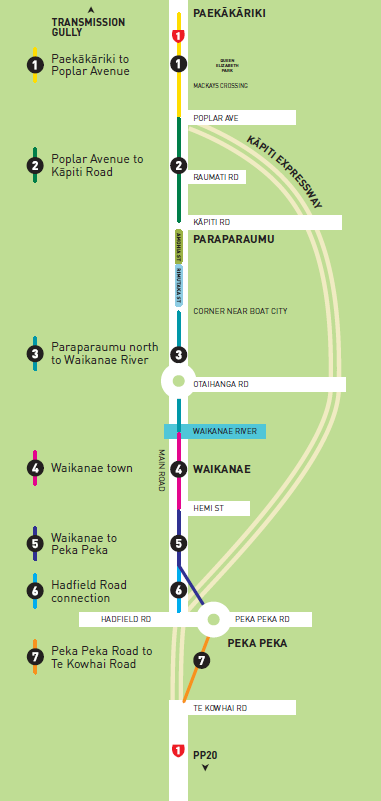 The process of renaming SH1 is being funded by the NZ Transport Agency as part of the Council's SH1 revocation agreement with the Transport Agency.
Sections of SH1 to be renamed
Paekākāriki to Mackays Crossing*
Poplar Avenue to Kāpiti Road
Paraparaumu north to Waikanae River
Waikanae town
Waikanae to Peka Peka
Hadfield Road connection
Peka Peka Road to Te Kowhai Road.
 Please click here to enlarge map.[PNG 55 KB]
Representatives/historians of the district's three iwi and a local historian identified possible names for the seven sections of SH1 to be renamed that reflect the district's rich historical and cultural history. The names are:
Section 1    Hurumutu
Section 2    Hokowhitu
Section 3    Rauoterangi
Section 4    Kākākura 
Section 5    Unaiki
Section 6    Katu
Section 7    Matene Te Whiwhi
Related documents
Draft minutes from the Paekākāriki Community Board meeting on 8 August 2017[PDF 229 KB]
Draft minutes from the Paraparaumu-Raumati Community Board meeting on 12 September 2017[PDF 244 KB]
Draft minutes from the Waikanae Community Board meeting on 5 September 2017[PDF 234 KB]
Draft minutes from the Ōtaki Community Board meeting on 15 August 2017 [PDF 201 KB]
---