Coastlands Aquatic Centre celebrates 10 years
14 Aug 2023, 8:00 AM
Our Coastlands Aquatic Centre is celebrating 10 years, and we'll be marking the occasion with a month of events during September. 
The pool has become a Kāpiti landmark, with its iconic clear polymer roof, designed to provide plenty of natural light and conserve energy for heating.  
We've welcomed almost two million visitors for recreational swims, fitness, celebrations, events, AquaFitness and Learn to Swim classes (for babies through to adults!), and squad training. 
Construction 1 November 2012
Construction 1 November 2012
Coastlands Aquatic Centre
Coastlands Aquatic Centre waterslide
In 2011 an Emperor penguin named Happy Feet became internationally famous when he turned up on Peka Peka Beach, nearly 4,900 kilometres from his Antarctic home. He's just the second penguin known to have reached the shores of Aotearoa New Zealand. Coastlands Mall commissioned a reinforced lifelike 90-centimetre-tall resin sculpture, who's become the mascot of Coastlands Aquatic Centre.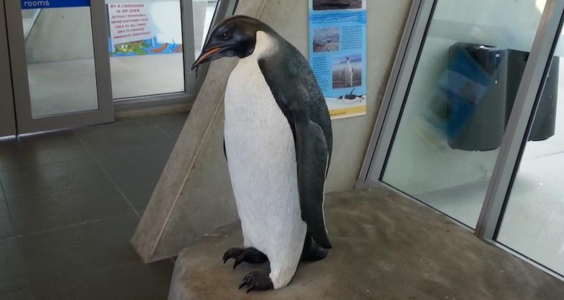 Chilling at Coastlands...
Happy Feet will be hanging out at Coastlands Mall during our 10-year celebrations. Take a selfie with him, post it on Facebook or Instagram with the hashtag #HappyFeetCoastlands, and be in to win a family swim prize pack! We'll announce the winners of our Coastlands Aquatics Centre Facebook page at the end of September. 
---
Help name our new flying fox!  
Soar like never before across our main pool with the exhilarating rush of our trailblazing flying fox!
Thanks for your contributions – our new flying fox has been named Te Manu Rere.
---