River Recharge Scheme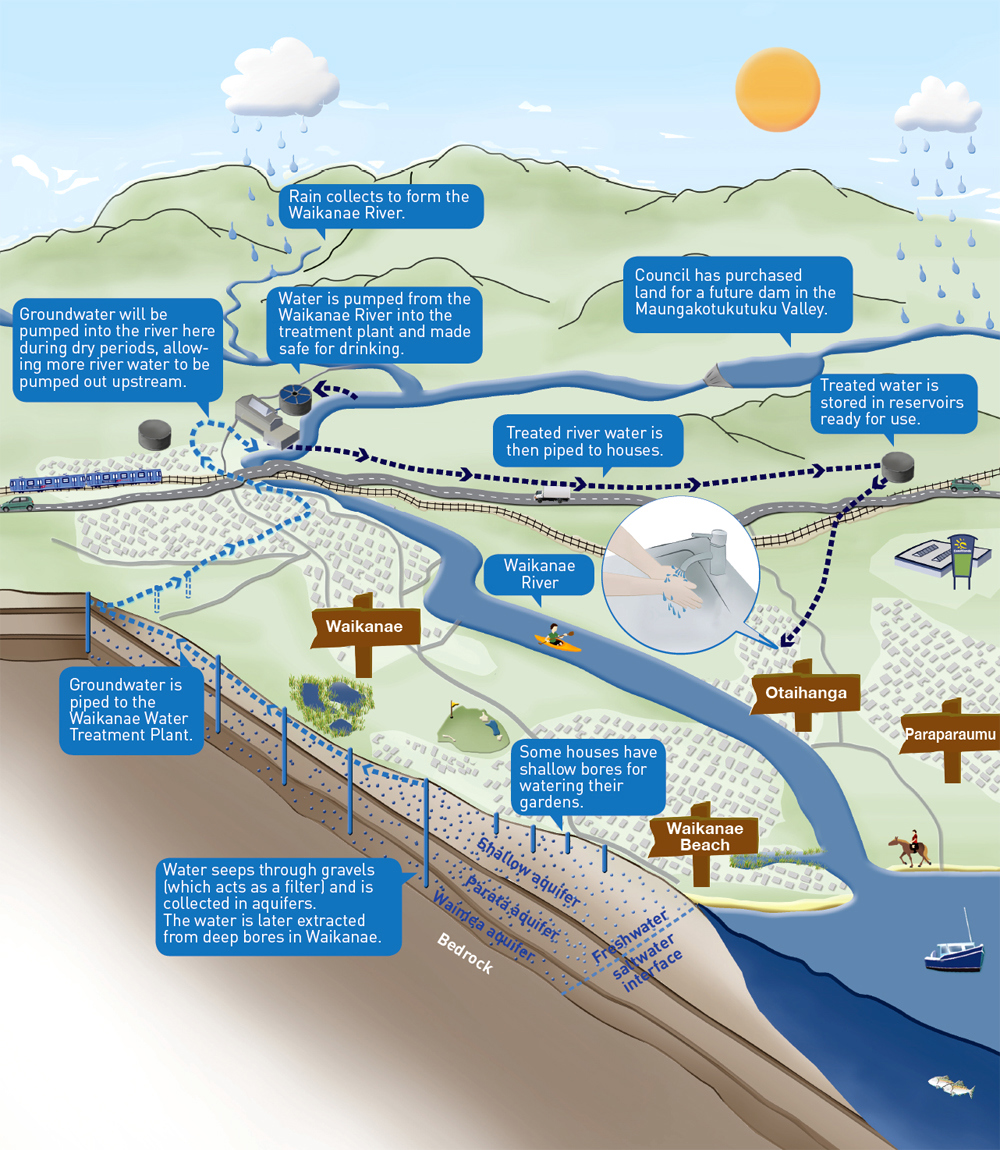 [PDF 379 KB]The River recharge with groundwater scheme allows more fresh water to be taken from Waikanae River while maintaining the river's ecological balance and required minimum flow.
Rain water is filtered through sands and gravels and seeps into the deep Waimea aquifer, which provides natural underground storage. In times of low river flow, water from the aquifer will be pumped and discharged into the river downstream of the Waikanae Treatment Plant intake.
This means the taste and quality of the water that comes out of your taps will not be affected by groundwater being added to the river, as it will not enter water supply.
As well as enabling consistent high quality water, the consented extra extraction allowed secures supply for future growth in the Waikanae, Raumati and Paraparaumu areas until 2048.
Main conclusions of the independent commissioners who assessed the River Recharge with Groundwater application include:
It will enable Waikanae, Paraparaumu and Raumati communities to have a high quality and reliable supply of water for 35 years (in line with resource consent duration).
The adaptive management approach will protect the important values of the Waikanae River, Waikanae groundwater aquifer, and coastal streams and wetlands connected to the aquifer.
The River Recharge proposal is supported by tangata whenua of the Waikanae area and will contribute positively to the relationship local iwi has with the Council and River.
This page contains information on the key conditions of the resource consent for river recharge with groundwater.This page contains information on the key conditions of the...

This page contains questions and answers on the river recharge with groundwater consent.1. What happens at the end of the 35 year resource consent? A new resource consent would...

Annual water reporting by Council on the Waikanae River Recharge Scheme is a requirement of resource consents issued by Greater Wellington Regional Council on 7 October 2013, and...

Council's Waikanae River Recharge Project has won Infrastructure Project of the Year at the Local Government New Zealand (LGNZ) conference being held in Nelson. The title...

Use this page to monitor how the river recharge scheme may impact the groundwater levels in your private bore. Follow the easy steps to have up-to-the-minute information on current...

Future proofing the water supply by securing the land for a dam Council purchased land in 2012 for a future dam site behind the hills of Nikau Valley. With the current river...