Pukehou "The Hill of Dedication"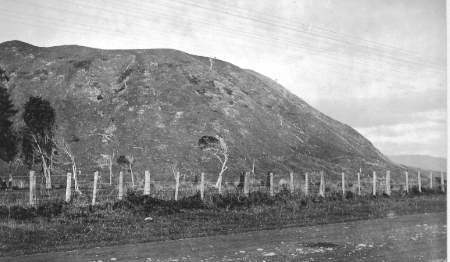 Location: 247 State Highway North, Ōtaki
The Ngāti Toa defeated Muaupoko and Ngāti Apa tribes (c1821-28).
One of the paramount chiefs of Ngāti Apa, Te Hakeke, rallied his people to maintain his independence. Te Hakeke was married to Haewa, a Muaupoko woman of high rank. On the birth of their child, Te Rara-o-te-rangi, Te Hakeke carried him to the summit of this hill and composed a waiata (song) dedicating his son to the task of restoring the Mana of his ancestors over the surrounding lands. It was here that the young warrior was to stand when he had driven out the invaders.
Unfortunately the high hopes of the father were unfulfilled. Te Rara-o-te-rangi died in his youth. Ngāti Toa and later Ngāti Raukawa gained authority over this hill and the surrounding lands which has remained to this day.
Ihaka's Leap (c1820)
During this time of systematic Ngāti Toa attacks on Muaupoko pas along the coast, a small party of Muaupoko including women and children escaped from their beleaguered pa, Katihiku near the mouth of the Ōtaki River. Their intention was to reach Lake Horowhenua.
One of the party was a young warrior, Ihaka Te Rangihouhia, who was about 16 years old. Avoiding the easier, more dangerous coastal route, they made their way inland and camped near the summit of Pukehou. The next morning, Ihaka climbed a giant rata tree on the brink of the precipitous western face of the hill in order to reconnoitre.
Ihaka was still in the treetop when shots were heard. The Ngāti Toa war party had discovered the refugee camp. Te Rangihaeata, the leader of the attackers saw Ihaka and likened his victim to a bird to be captured and consigned to the umu (earth oven). He fired twice but missed. Ihaka leapt out and over the sheer cliff, crashing through the treetops below. A mass of vines broke his fall, and despite lacerations, saved his life. He escaped and eventually reached Lake Horowhenua where he lived to retell the story of his lucky escape.
Download a brochure
Click on a link below to download or print a copy of each heritage trail brochure.
[PDF 2.41 MB]Ōtaki and Te Horo[PDF 2.41 MB]
Waikanae[PDF 2.51 MB]
Paraparaumu[PDF 1.67 MB]
Paekākāriki[PDF 1.41 MB]
Related links
Supporters of the Kāpiti Coast Heritage Trail
Te Whakaminenga o Kāpiti
Kapiti Pakeke Lions
Kapiti Historical Society
Otaki Historical Society