Maps
We have several maps available online for download or to view that detail the district. Our maps include information on properties, fault zones, parking and speed restrictions, rubbish collection routes, tsunami evacuation zones, walking, riding and dog access maps, water supply project maps and much more.
---
Map viewer (GIS)
The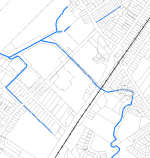 Map Viewer (GIS) mapping tool displays aerial photographs, planning information, service utilities, hazard features and contours. You can use 'Address Search' to find a particular property. The tool can also be used on smartphones.
Note the Map Viewer Terms and Conditions [PDF 228 KB].
---
Beach maps
Kāpiti beaches are shared spaces – as a community, we want everyone to be able to enjoy them safely together. 
---
District Plan maps
District Plan maps are divided into categories for Districtwide and Urban Zones and Features, Rural Subdivision, Natural Hazards, and Aerodrome and Road Hierarchy.
---
The Kāpiti Coast has some fantastic off-leash areas where dogs can run and play freely. These areas can change from summer to winter, so please make sure you're aware of the rules before visiting. 
These maps identify summer and winter dog access zones - specifically on and off-leash areas - and areas where no dogs are permitted:  
See Dog and animal management and the Dog Control Bylaw for information and a full list of dog parks, exercise areas, and summer and winter zones. Note that dogs are not permitted on the Te Araroa Paekākāriki Escarpment track. For more info please visit the Te Araroa website.
---
Earthquake maps
See Kāpiti's natural hazards and Earthquake fault rupture hazards for more information, including the District Fault Zone maps.
---
Greywater suitability maps, indicating minor, moderate and major limitations.
---
Parking restrictions were consulted on and submissions heard by Community Boards and reflect the Parking Bylaws. 
---
You can use our Rubbish and Recycling GIS map to identify the collection day for your property - click on the area that you live in to find out the rubbish collection day.
Please note: If no information is displayed in the Rubbish Collection field the property is outside the kerbside collection area.
View information about kerbside services in Kāpiti.
---
Speed restrictions maps
The speed limit bylaw allows the Council to set speed limits by resolutions on all roads under its ownership or control and in certain designated locations specified in the bylaw. 
View the GIS map.
View a PDF version of the map [PDF 7.2 MB].
---
Tsunami Evacuation Zone Maps have been developed by Greater Wellington Regional Council, Kāpiti Coast District Council and Civil Defence, which identify the areas residents need to evacuate from in the event of a tsunami.  View tsunami evacuation maps.
---
Walking and riding
The Kāpiti Coast trails map is available for download or print at Kāpiti Coast Trails Map [PDF 1.9 MB]. We also have a Kāpiti Coast Cycling Map [PDF 1.91 MB] for the keen cyclists out there. 
---
View the maps of the shortlisted options for the Water Supply Project. 
---