Greenhouse gas emissions
Council has received a number of awards for reducing its greenhouse gas (GHG) emissions, including being named top carbon reducer in Toitū Envirocare's 2020 rankings.

Reducing emissions is important because the current climate change emergency has been caused by too many GHGs in the atmosphere. We all need to be working to mitigate our emissions – that is, working to reduce the amount of GHGs in the atmosphere by reducing our GHG emissions, or finding ways to absorb GHGs out of the atmosphere (sequestration).
You can find out about GHGs and the impact they have on our atmosphere on the NIWA The greenhouse effect page.
---
Aotearoa New Zealand's emissions
The two GHGs emitted most in Aotearoa are:
carbon dioxide (mostly from transportation, manufacturing and construction, and energy industries)
methane (mostly from livestock and waste).
You can find out more about Aotearoa New Zealand's emissions at Stats NZ (New Zealand's greenhouse emissions) and New Zealand's greenhouse gas inventory on the Ministry for the Environment's website.
Targets
Aotearoa New Zealand's national greenhouse gas emissions reductions targets are:
net zero emissions of all greenhouse gases other than biogenic methane by 2050
24–47 percent reduction of biogenic methane emissions by 2050, with 10 percent by 2030 (relative to 2017 levels).
Aotearoa New Zealand's greenhouse gas emissions are relatively small on a global scale, but our per capita emissions are among the highest in the world. This means that mitigation is needed at all levels, including households and businesses.
You can find out more Greenhouse gas emissions targets and reporting on the Ministry for the Environment's website.
---
Kāpiti's emissions
About two-thirds of survey respondents support Council setting a districtwide emissions reduction target, as some other councils have done, according to an informal survey in September 2022. It found 75.1 percent are concerned or very concerned about climate change. The new Council will be briefed on the results in early 2023 to decide next steps.
Shifting to a low carbon Kāpiti survey results[PDF 671 KB]
Greenhouse gas inventories tell us that:
57 percent of Kāpiti's gross emissions are from transportation (eg, road, rail and air travel). 74 percent of transport emissions are from petrol and diesel use, while the remaining 26 percent are from air, rail, LPG and bus electricity.
---
17 percent of Kāpiti's emissions are from stationary energy (eg, industrial, residential, and commercial electricity or gas consumption).
---
12 percent of Kāpiti's emissions are from agriculture. From 2001 to 2019, agricultural emissions dropped by 41 percent as the number of farm animals in the District declined by nearly 50 percent.
---
9 percent of Kāpiti's emissions are from waste. 92 percent of waste emissions are from solid waste, which emits methane when organic materials break down in open and closed landfills.
Wastewater generates the remaining 8 percent, which is a relatively small amount due to advances in wastewater treatment.
---
5 percent of Kāpiti's emissions are from industry.
---
In the 2018/19 reporting year, the Kāpiti Coast District emitted gross 351,245 tCO2e (tonnes of carbon dioxide equivalent). This is around 8 percent of the Wellington region's total gross emissions for the 2018/19 reporting year.  Because the population in 2019 was approximately 56,000 people, per capita gross emissions were 6.3 tCO2e/person. 
After considering carbon sequestration (carbon stored in plants or soil by forests), the Kāpiti Coast District emitted net 286,560 tCO2e emissions. This is 11 percent of the Wellington region's total net emissions.
Council's emissions
Measuring our emissions
We've been measuring and reporting our greenhouse gas (GHG) emissions since 2012. Our performance has been independently audited and verified by Toitū Envirocare's CarbonReduce programme (formerly known as Enviro-Mark Solutions' Certified Emissions Measurement and Reporting Scheme (CEMARS)). CarbonReduce tracks how we measure, manage and reduce our GHG emissions. 
Toitū's CarbonReduce programme
To get certification under CarbonReduce, organisations have to measure their full greenhouse gas (GHG) emissions (also known as a carbon footprint), to understand their impact on the global climate. All operational emissions required under the international standard for carbon footprints, ISO 14064, have to be measured, including vehicles, business travel, fuel and electricity, paper, and waste. These are measured each year, and then independently verified by Toitū to make sure they're accurate and complete.  
Once an organisation has measured their footprint, they have to develop plans to manage and reduce their emissions continually. As part of achieving Toitū CarbonReduce certification, the organisation needs to achieve emissions reductions on a five-year cycle.
Greenhouse gases
Greenhouse gases are gases that trap heat from the sun in the Earth's atmosphere and make the Earth warmer than it would be if they were not present. They include carbon dioxide, methane, nitrous oxides, and synthetic gases like some refrigerants (for example, R22).
Extra GHGs in the atmosphere, from human activities such as burning fossil fuels, increase the heat energy trapped near the Earth's surface. This extra energy is changing the earth's climate, and contributing to ice loss, sea-level rise, and more extreme weather. Some of the extra carbon dioxide is absorbed from the atmosphere by the oceans, causing them to become more acidic.
What we did
We are committed to helping:
address the causes and effects of climate change
support the community to live in an environmentally sustainable way
create a low carbon economy locally.
Council wanted to fully understand the sources of our greenhouse gas emissions, and to put an effective plan in place to reduce them. This needed to be wholly transparent to our community, and we identified becoming certified by CEMARS' carboNZero programme (now Toitū's CarbonReduce programme) as the best way to do this.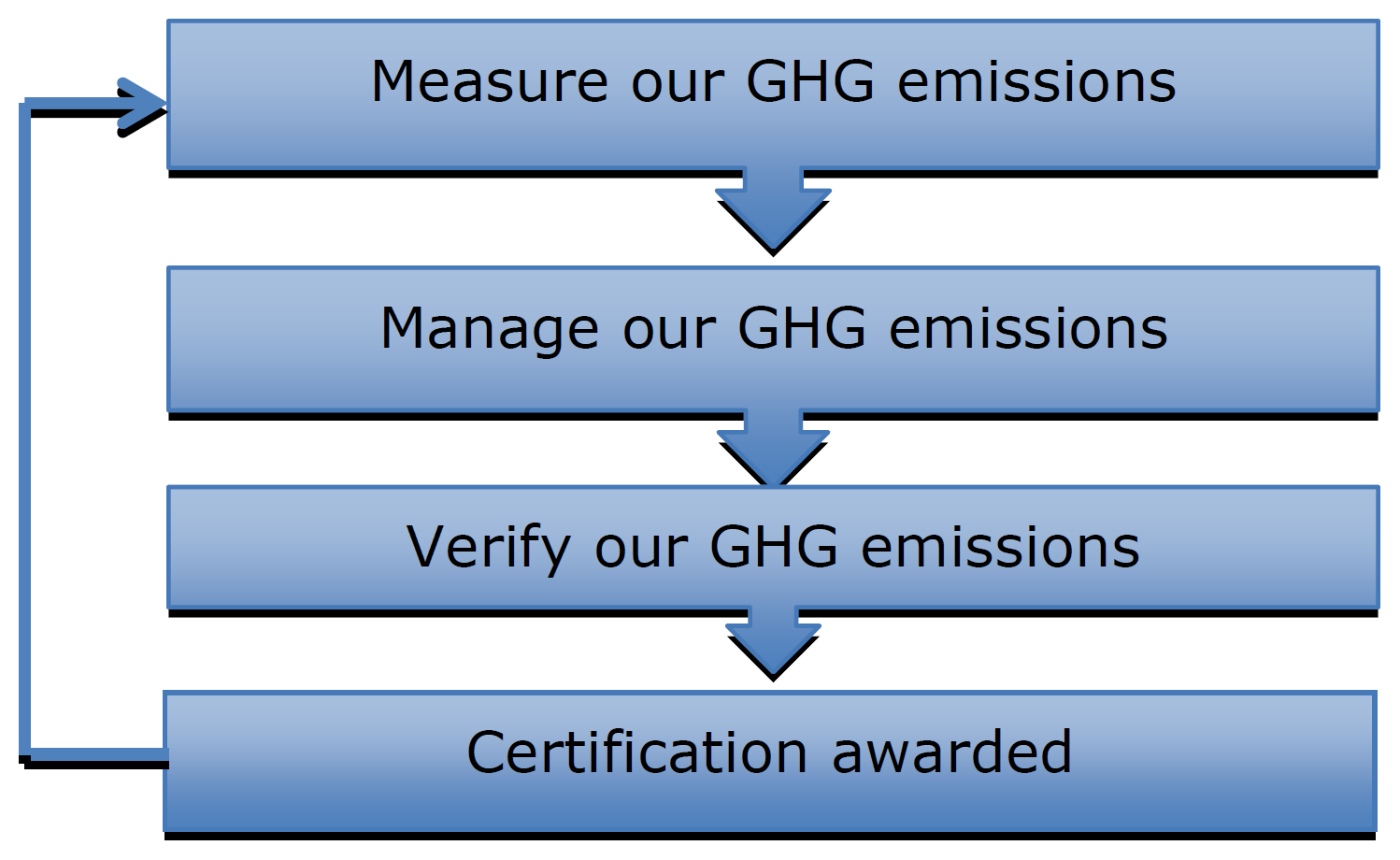 We developed our Emissions Management and Reduction Plan in 2012, which set our target for 2021/22 of reducing Council's operational GHG emissions to 80 percent of the 2009/10 baseline level. That was an ambitious target, showing the commitment and conviction of the Council. This plan is reviewed and updated every three years.
At the end of each year, we collate all the data and calculate our annual emission result, which is then audited by staff from Toitū Envirocare, and put through an additional verification process within Toitū. If everything stacks up, we receive confirmation of our ongoing certification.
Actions we've taken
We've taken a wide range of actions to reduce our GHG emissions, including:
replacing diesel with woodchip fuel at our Wastewater Treatment Plant drier
incorporating energy efficiency in the design of two large construction projects, the Aquatic Centre and the Civic Building
disposing of dried wastewater sludge at a landfill with a higher gas capture and destruction rate
installing Solar PV at some of our facilities
installing LED streetlights across the district
replacing end-of-life vehicles with more fuel-efficient and low-carbon models (including electric vehicles).
Progress
Our most recent GHG audit, for the 2019/20 year, verified a 78 percent reduction in our emissions compared to the 2009/10 baseline.
National recognition
Our actions over the last eight years have made us leaders in emissions reductions in the local government sector. We have received a number of awards for this, including from the Energy Efficiency and Conservation Authority, the Ministry for the Environment and Enviro-Mark Solutions.
Our most recent award was being declared the leading carbon reducer for 2020 of Toitū Envirocare's Top 10 Carbon reducers.
Case study video
You can find out more about our emissions at Greenhouse gas (GHG) emissions reports.
---