Our awards for environmental care
Kāpiti Coast District Council is a winner when it comes to sustainability. This page lists our awards for energy savings and reducing our carbon emissions, as well as our work to improve the environment.
2020  |  2019  |   2018  |   2017  |  2016  |  2014  |  2012  |  2011
---
2020
We were named Toitū Envirocare's top carbon reducer for 2020 for our ongoing work to reduce our carbon emissions. We signed up to Toitū's Carbon Emissions Measurement and Reporting Scheme (CEMARS) in 2011 after adopting a target of reducing emissions by 80% by 2021/22 compared to baseline levels in 2009/10.
Read more:
Council named Toitū's top carbon reducer for 2020
Kāpiti Coast District Council – our emissions reduction journey
2019
Enviro-Mark Solutions Award for excellence in climate action
We won the 2019 Enviro-Mark Solutions Award for Excellence in Climate Action (Medium Footprint Organisation), achieving a 76 percent emissions reduction since 2009. This is the yearly equivalent waste to landfill emissions from 50,000 people.
Read more:
Kāpiti Coast District Council wins Excellence in Climate Action award
2018
CEMARS leading emissions reducer
We were named the leading certified CO2 equivalent emission reducer in the Carbon Emissions Measurement and Reporting Scheme (CEMARS) programme.
Recreation Aotearoa Award for Maclean Park
Our Maclean Park Refresh: Community Engagement Project received a merit award in the 2018 Recreation Aotearoa Awards in the category Outstanding, Research, Planning and Policy. 
Read more:
2017
Enviro-Mark Solutions Award for carbon management
We took out the Overall Award for Outstanding Performance in Carbon Management (Large Organisation) in the 2017 Enviro-Mark Solutions Award. We were recognised for not only drastically reducing our emissions but also reaping the financial benefit of managing our carbon footprint. The energy savings through one project implemented as part of our CEMARS certification led to reduced costs of $300,000 per year.
Read more:
Council win award for outstanding performance in carbon management
2016
EECA Award for energy and emissions work
We were commended in the 2016 EECA Awards for our continuing energy and emissions saving work. EECA judges said excellent leadership had led to a comprehensive group of long-term interlinked projects which were reducing the Council's carbon footprint and saving ratepayers' money.
We achieved a 12% reduction in petrol and diesel use in 2014/15, saving $20,000 and 56 tonnes of carbon dioxide. We did this through:
vehicle maintenance, reduced mileage and educating staff on how to be more fuel efficient when driving
promoting walking, cycling and taking public transport as alternatives to driving cars.
Also contributing to our total energy saving are our electric refuse collection trucks (a world first) and Paraparaumu Wastewater Treatment Plant's solar electric system which is saving six tonnes of greenhouse gas emissions and $6,500 in energy costs each year.
2014
Green Ribbon Award for reducing our emissions

We won our second Green Ribbon Award for reducing our greenhouse gas emissions by 48 percent since 2010. We achieved these reductions through a range of energy and waste minimisation initiatives as part of our CEMARS certification programme. Initiatives included:
reducing organic waste to landfill
converting diesel to wood fuel in sewage drying
reducing energy use by 26 percent at Waikanae Pool through better management practices and new technology
recycling water at Coastlands Aquatic Centre through a heat pump heat recovery system that condenses water vapour from the exhaust air stream. This produces around 3,000 litres of water a day that can be recycled back into the pool.
EECA Public Sector Award 
In the 2014 Energy Efficiency and Conservation Authority (EECA) Awards we won the Public Sector Award for our proactive approach to energy saving and emissions reduction and the NZ Community Award for engaging strongly with the community on energy-saving initiatives.

The NZ Community Award recognised these key projects:
our free Eco Design Service that provides advice on how to have more energy-efficient healthier homes
the Greenest Neighbourhoods competition
Energise Ōtaki
our work with schools/student groups.
We also received a highly commended in the Energy Management Award for CO2  reduction and energy efficiency practices underpinning all our operations.
Infrastructure Project of the Year
Our Waikanae River Recharge Project won Infrastructure Project of the Year at the Local Government New Zealand (LGNZ) conference in April 2014. The award is for a project  that has led to improved efficiencies and effectiveness for local businesses, residents and visitors, and has contributed to an economic or environmental benefit for their region.
Read more:
Award-winning project - Waikanae River Recharge Scheme
2012
Youth in Local Government Award
We won the supreme award in the biennial Youth in Local Government Awards for developing, in partnership with the Youth Council, the Kāpiti Coast Youth Survey and Youth2U Action Plan. In turn, these resulted in initiatives such as the Youth2ULive programme of youth-focused activities, the ThinkBIG Leadership Development Programme and the Youth2UDollars grants scheme.
2011
Green Ribbon Award for protecting and enhancing the environment
Our broader commitment to sustainability was recognised in 2011 when we won the 'Central and Local Government Stepping Up' category in the Ministry for the Environment's prestigious Green Ribbon Award. The awards recognise "the outstanding contributions of individuals, organisations, businesses and communities to protecting and enhancing New Zealand's environment".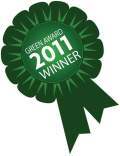 Some of those things include:
installing a wood-fired boiler  to dry sewage sludge and reduce carbon emissions
upgrading  pensioner homes with insulation and solar water heating systems
holding an annual 'Sustainable Home and Garden Show' to promote environmentally friendly lifestyles
supporting the Clean Technology Centre New Zealand, based in Ōtaki
providing grants and practical help to community groups, schools, businesses and individuals doing good things for the environment
offering help and advice to householders through the Green Gardener, Green Plumber and Eco-Design Advisor services
encouraging sustainable development through innovative planning policies, including Plan Change 75, which requires new homes to have grey water systems and/or rainwater tanks
prioritising  environmental sustainability and resilience as part of our economic development plans
encouraging sustainable transport through extending walkways and cycle ways.