Vision
Te Uruhi (previously known as the Kāpiti Gateway) will provide an iconic visitor experience, a biosecurity facility, and tell the Kāpiti Island conservation story. It will celebrate our district's rich cultural history, and enhance the Tikotu Stream.
---
The Te Uruhi vision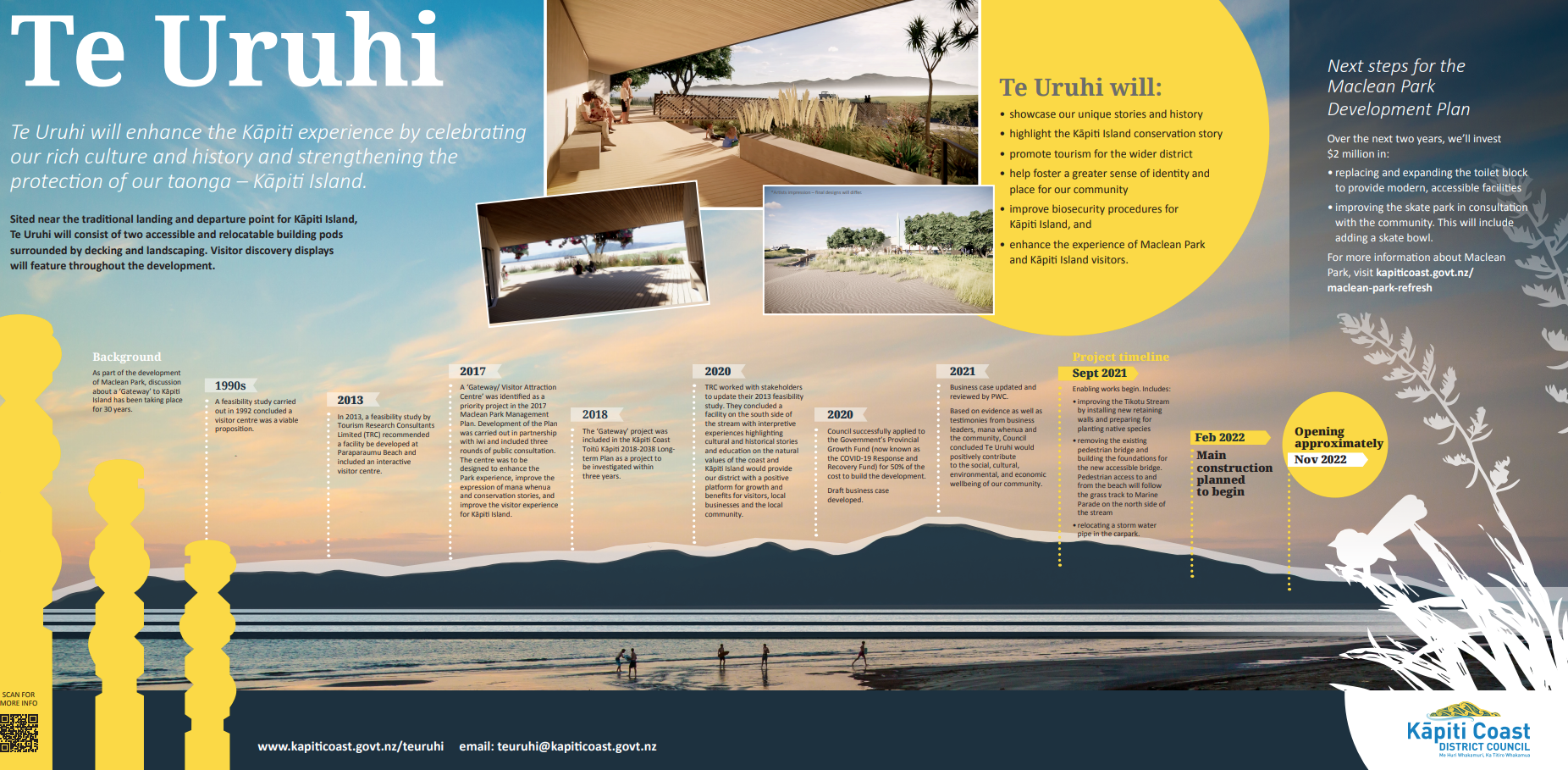 [PDF 10.31 MB]Te Uruhi will raise the profile of the Kāpiti Island conservation challenge, and its efforts and successes, using information panels, story boards and art installations. Carved pou and other artworks will showcase our unique history, and help foster a strong sense of identity and place for our community.
A dedicated biosecurity check-in area will support robust and consistent check-in procedures, allowing the number of visitors to Kāpiti Island to increase. This area will reduce the time and distance between check-in and boarding a boat to the Island.
Parts of Tikotu Stream will be re-naturalised, with new retaining walls and plantings of native species, and a wider and more accessible bridge across the stream will improve the connection to the beach with easier and more attractive access.
Te Uruhi will help promote tourism for the wider district.
---
The building
The proposed structure will consist of two single-storey 'pods' under a single roof. One pod will house the biosecurity checking room, bathroom facilities and store room, while the other will house the visitor centre. The pods will be connected by a low-profile roof, landscaping and decking. The highest point of the building is less than six metres from the current ground level, which is lower than the trees currently on the site.
The preferred concept was designed by Athfield Architects and includes the proposed 235m² single-storey multi-purpose gateway building, with a large expansive deck (450m²) for visitor and community use.
The selection panel chose the design that best met all the criteria in the design brief. While Athfield Architects' office is based in Wellington, one of the architects on this project lives in Te Horo and is very familiar with our rich cultural history and coastal environment.
We live in an ever-changing coastal environment, and the preferred location for the Gateway building is not immune to future changes. Because of this, the building can be relocated if the environment changes, or we need to respond to future growth.
The large expansive decked areas with seating, shade and shelter will provide spaces for the community to use and enjoy. The interior space layout will be determined through the detailed design phase.
If a food and beverage option is chosen, the central atrium could be enclosed (possibly with glass) to provide space for seating.
---
Animation
View the animated fly-through of Te Uruhi, previously known as the Kāpiti Gateway, below. You can see more artists' images in our Concept design section. 
---